That-which-must-not-be-named: the role of social support in the recovery of trauma survivors
In the aftermath of a traumatic event, victims are often told: "Get over it", "There's no point looking back; you've got to move on". Those who continue to be traumatised may therefore feel isolated and believe they cannot speak about their experiences.
In the context of trauma or post-traumatic stress disorder (PTSD), one thing that most of us probably would not immediately consider is the importance of social support. Both research and clinical narratives show that social support is crucial on the road of recovery for people who have survived trauma. An important question arises: how do we bridge the gap between social connection and evidence-based treatments for trauma survivors? Hoping to answer this question, Professor Marylene Cloitre from New York University and her local guests shared their stories with us at a colloquium at the Leiden Academiegebouw on June 6, 2018.
STAIR: Skills Training in Affective and Interpersonal Regulation
Prof. Cloitre, Director of the Institute for Trauma and Stress at the NYU Child Study Center and an acclaimed expert on PTSD, presented her most recent project: testing and implementing Skills Training in Affective and Interpersonal Regulation (STAIR) as a web-based treatment for PTSD. Unlike many of the current interventions for PTSD, which mainly focus on exposure, this proposed form of therapy promotes social engagement and relationship skills to enhance interpersonal functioning. Prof Cloitre strives not only to help survivors to feel connected again, but also to reach the most vulnerable and isolated individuals. To this end, STAIR therapy was transformed into a technology-driven intervention: webSTAIR. webSTAIR modules are delivered on a website, and users can benefit from support from a therapist via Skype. Prof. Cloitre's research represents an impressive leap forward in PTSD treatment, because it demonstrates the potential of STAIR to increase social connectedness for survivors by minimising social, geographical, and economic barriers.
At the colloquium, the topic ignited a lively discussion among the attendees during the break. Can e-health interventions be usefully and feasibly applied to unmet psychological needs? Can virtual support replace face-to-face interactions, especially given that the intervention aims to teach and support the practicing of social skills? What does this mean for the role of therapists? How will this affect therapists' beliefs about their own self-efficacy and their necessity in mental health settings in the future?
Move away from the 'one size fits all' approach
The next part of the programme took us from the U.S. to the Netherlands, where Danielle Oprel, Chris Hoeboer and their team are carrying out the IMPACT Study, which investigates the STAIR protocol in other groups of trauma survivors. This study compares three types of treatment for adults with childhood-abuse-related PTSD: prolonged exposure, intensified prolonged exposure, and phase-based treatment (STAIR followed by prolonged exposure). The most prominent aim of the study is to paint a clearer picture of what makes treatment effective for some patients more than for others. The researchers are investigating whether we could tailor therapy to the individual patients and their experience and move away from a 'one size fits all' approach.
Listen to those who are rarely heard
Whether behind a screen in e-therapy or with a client in face-to-face treatment, therapists are often challenged by the traumatic life stories that they are presented with. One of the main goals in the treatment of trauma survivors is to create a safe space in which it is okay for them to talk about their experiences and express difficult emotions freely. The final speakers at the colloquium, Hameedha Lakho and Sietske Dijkstra, spoke about the importance and value of the survivors' stories. After being able to share her story, Hameeda has made it her life's focus to connect with others affected by trauma and help them talk about their experiences. She emphasizes that recovery is a personal process, because trauma is not something that can be forgotten, or undone: the survivor carries it throughout his or her whole life. Nonetheless, Hameeda hopes that, as she did, survivors will be able to reframe their lives with the traumatic event or experience still in the picture. The concepts of validation, empathy, and social support consistently emerge in journeys of recovery. Really listening to a story, without judgement or shame, empowers those who are rarely heard. Sietske supports this mission in her practice-oriented research into abusive relationships and traumatic experiences, which incorporates experiential insight to strengthen the well-being of the people affected.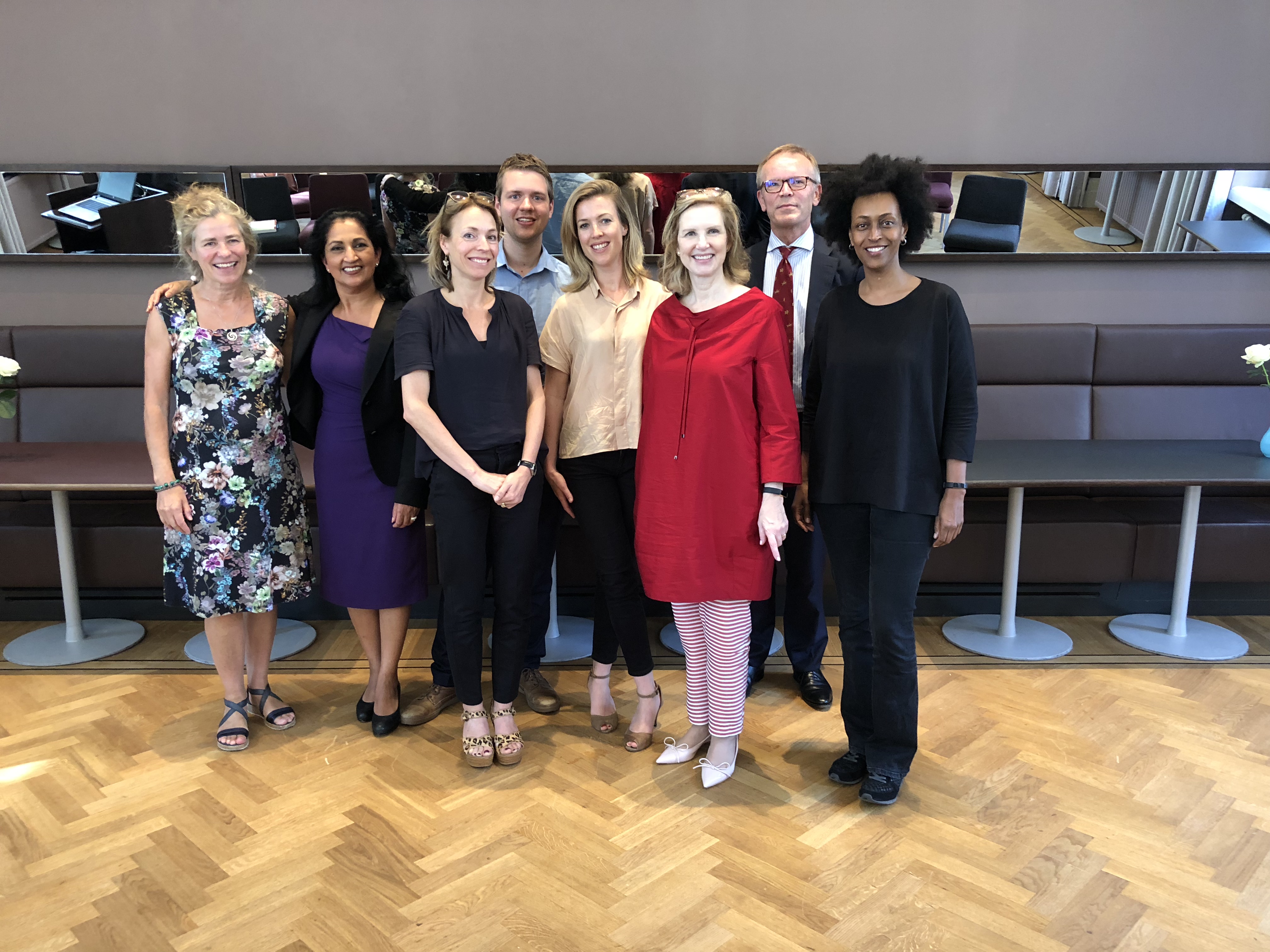 Colloquium speakers and IMPACT study team (left to right): Sietske Dijkstra, Hameeda Lakho, Maartje Schoorl, Chris Hoeboer, Rianne de Kleine, Marylene Cloitre, Willem van der Does, Danielle Oprel.
As two students with a strong interest in the field of PTSD treatment, we were very much struck by these speakers. We want to contribute to the research on improving interventions for these patients by furthering evidence-based scientific research. However, research often overlooks the very thing it is meant to be benefiting: the survivors and their stories. Therefore, we strive to reflect the fact that there are always two groups of experts in this picture: the therapists and researchers with their interventions, models, and theories; and the survivors, with their experiences, how these affected them, and what matters to them. The purpose of experiential expertise, as stated by Hameedha, is to find a way for these two groups of experts to combine their knowledge through a shared lens and create a meaningful therapeutic experience.
Although change is long overdue, we can at least make a conscious decision to change the rhetoric from "just move on" to "I am so glad you told me. I am here for you if you need me".
More information about the speakers and the studies mentioned can be found at the following websites: